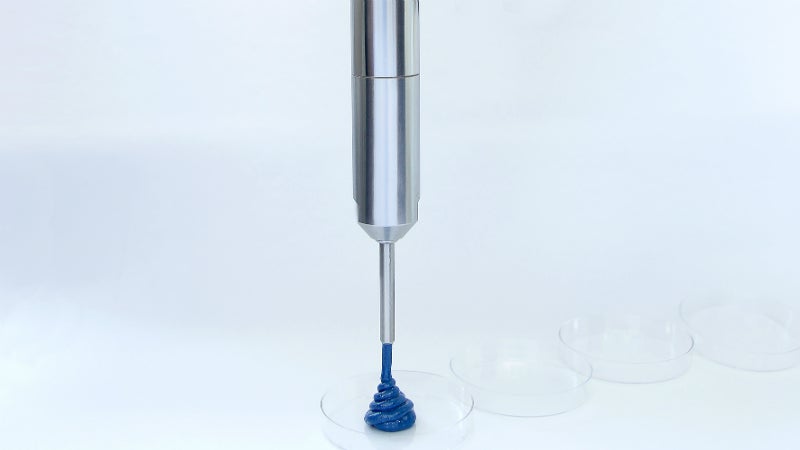 ViscoTec's systems for hygienic dosing and filling applications help meet hygiene requirements in the production of pharmaceuticals, food, and cosmetics.
In these branches of industry, both germ-free production environments and hygienic handling of products play an important role. In the case of the smallest impurities, whole batches become unusable. This is why, when planning new production lines, it is important to pay special attention for a perfect layout of each individual stage in the process.
In addition to designing systems specifically for the application, the specialists at ViscoTec guarantee a comprehensive consultation on the implementation, whether in manual workstations in a laboratory or in fully automatic production processes.
All systems of the Bavarian dosing technology manufacturer are based on progressive cavity technology. A precise and pulsation-free flow of product is guaranteed thanks to this pump technology, where product is guided extremely gently through the special rotor-stator geometry.
Even sheer-sensitive, filled and abrasive media prove to be no problem and the entire dosing and filling process benefits from these properties. The ViscoTec systems can already intervene when they are removed from their respective containers and use the appropriate collection systems to deliver the products directly to the bottlers or the precision dosing pumps. During dosing, a programmable retraction prevents dripping and stringing, thus ensuring a clean filling and application.
At this year's Interpack, ViscoTec presents its dispenser series for particularly precise dosages and small filling quantities (up to 0.2ml). The filling machines for pharmaceutical, cosmetic, and food applications are perfectly suited for the production and handling of sensitive products and are characterised by their cleaning properties.
To meet high cleaning requirements in production, dispensers can be dismantled without using tools. In addition, all components in contact with the product can be cleaned manually or in cleaning systems, as well as in ultrasonic baths. These components can be steam sterilised in autoclaves of up to 134°C.
ViscoTec VHD dispensers have been specially optimised for automated cleaning without disassembling and are therefore fully clean-in-place (CIP) and sterilise-in-place (SIP) compatible. The exact combination of the influencing factors, such as chemistry, temperature, mechanics, and time, makes cleaning a reproducible process.
However, the dispensers not only excel in their cleaning ability. The VPHD and the VHD series also impress when handling highly viscous products. Products up to 7,000,000mPas can be processed, dosed, and bottled. The ViscoTec systems can also be retrofitted to existing systems in order to ensure more process quality. All these properties make ViscoTec's dispensers all-rounders in the process, which offers greater benefits for every production.