OnAsset was founded (as SAVR) in 2005 with a focus on industrial RFID track and trace technology. Not long after its founding, the SAVR team met with global logistic providers seeking to leverage technology to provide greater insight into their operations. These engagements prompted a shift in direction for the young company and OnAsset as its known today was born.
First SENTRY
By 2006, founder Adam Crossno had developed the prototype SENTRY. In 2007, additional tracking devices, smart containers, and the first visualization platform came about. The vision platform evolved in stride with the tracking technologies and, in 2009, OnAsset introduced the Vision Platform & Control Tower and SENTRY devices became commercially available. At the time, smartphones didn't yet exist, and widespread awareness of the power and potential of real time cargo tracking and sensing wasn't commonplace.
Deep Roots in Aviation
Prior to OnAsset creating the world's first tracking device formally approved for use on aircraft using its patented FlightSafe® technology, the regulatory landscape did not account for the use of tracking devices in air cargo. Through significant effort to comply with regulations, and active engagement with airlines and regulatory agencies, OnAsset was proud to be the only IoT solutions company invited by the Federal Aviation Administration (FAA) to sit on the Portable Electronic Device Aviation Rulemaking Committee (PED-ARC) that developed the first formal regulations governing the use of active cargo tracking devices on commercial aircraft. OnAsset devices subsequently became the first to be formally approved by airline and industry regulators. Those PED-ARC regulations are still in place today, and OnAsset continues to maintain the largest network of airline approvals in the business.
Always Innovating
Following FAA and European Aviation Safety Agency approval, OnAsset's footprint in aviation grew rapidly. At the same time, OnAsset's leaders were in the lab, innovating to stay ahead of the curve. With eight patents under its belt already, the company was awarded another six patents in one year (2014) for innovations in wireless technology that made it possible to track shipments despite wireless communications gaps. OnAsset created a workaround so customers would always have the valuable insight they trust OnAsset to deliver.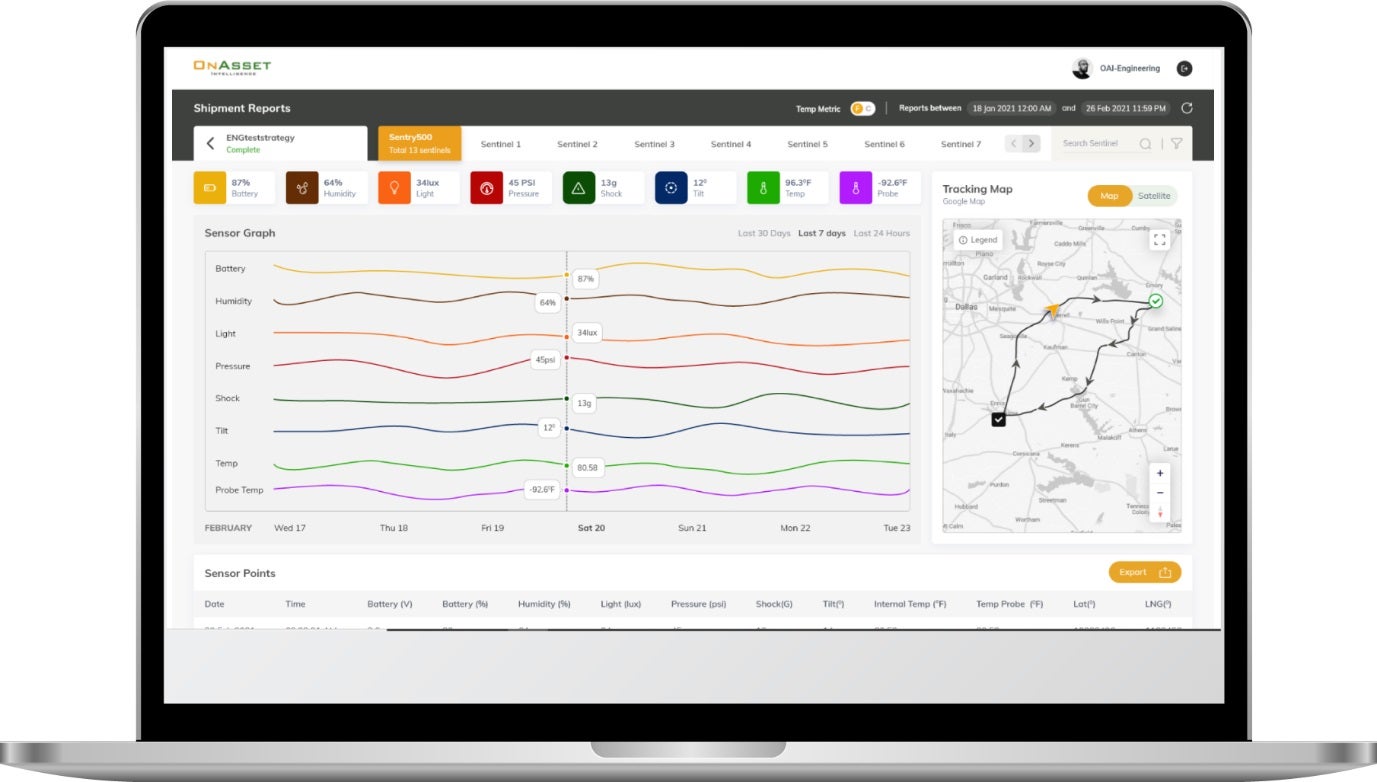 OnAsset INSIGHT
SENTRY FlightSafe®
Sentinel 100
Spanning Industries
The company went on to win awards and expand into healthcare, building partnerships with leading pharmaceutical companies to ensure the safe and secure delivery of drugs for clinical trials to sites throughout the world. Those relationships have expanded over the years and created opportunities to support the most important shipments of 2021 – the COVID 19 vaccines.
Today OnAsset remains in a class of its own, as both the hardware and software OEM for all aspects of its asset management solution. It uniquely provides piece-level, detailed insights on customers' valuable shipments so that they can see where each piece of their shipment is and what condition it's in…anytime, anywhere.