Cleanpak continues to advance all standards of clean environments by controlling the full process of cleanroom development, from design concept to project completion. By responding to industry-specific requirements, our cleanrooms are setting precedents for the nano-technology, semiconductor, biotechnology and pharmaceutical industries.
Being responsive to customer needs with strong support while maintaining active engagement in research and development has placed Cleanpak in the forefront of cleanroom products and systems. Creating the right solution for your critical environment begins with discussing your specific requirements, identifying the challenges, designing a solution and ultimately delivering a custom-engineered package that meets all your unique needs.
Air-handling units, fan filter units and custom ceiling grids
Cleanpak's manufacturing facility is located in the Portland, Oregon, area with capacity to produce up to $1 million of product per day. Our factory is fully integrated, which allows flexibility and eliminates any dependence on outside facilities to support production demands.
CLEANPAK® projects in Europe
Over 600,000ft² (70,000m²) of ceiling space
Over 20 million CFM of air delivery through air-handling units and fan filter units
Custom ceiling grid systems
Unidirectional plenums, recirculation air handlers, cleanroom wall systems and make-up air handlers
Cleanpak designs and manufactures fully customized cleanroom equipment including ceiling grids, unidirectional plenums, recirculation air handlers, cleanroom wall systems, fan filter units, and make-up air handlers featuring patented FANWALL TECHNOLOGY®, arguably the first true innovation in the air handling equipment industry in years. Based on replacing large fans with a modular array of smaller fans, FANWALL TECHNOLOGY® allows for major improvements in footprint, reliability, energy efficiency, sound attenuation and operating costs.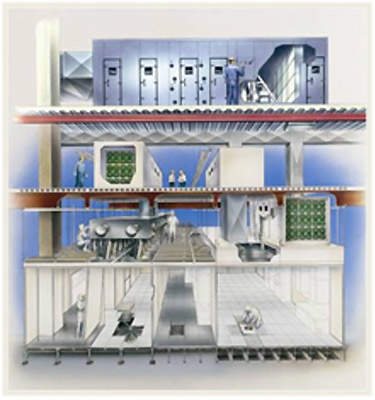 Why settle for a packaged answer when Cleanpak® can provide a cost-effective, custom engineered solution for today's most challenging applications.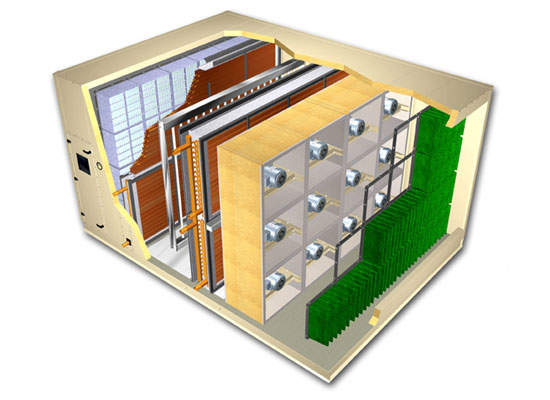 FANWALL TECHNOLOGY® offers many advantages over traditional air handlers; smaller fan sections, greater flexibility in unit dimensions, higher efficiency and greater reliability through redundancy.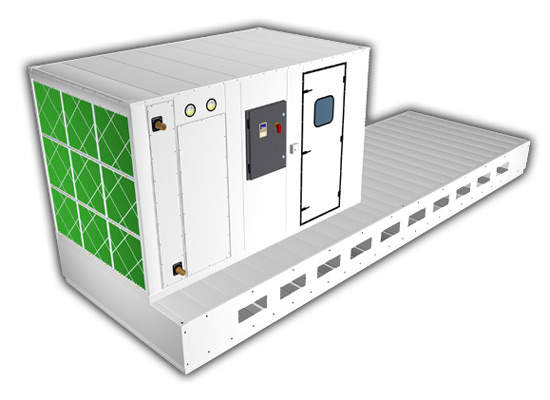 ETL-listed cleanroom recirculating air handlers designed with streamlined cabinet construction, recessed control panel and easy to remove fan/motor assembly.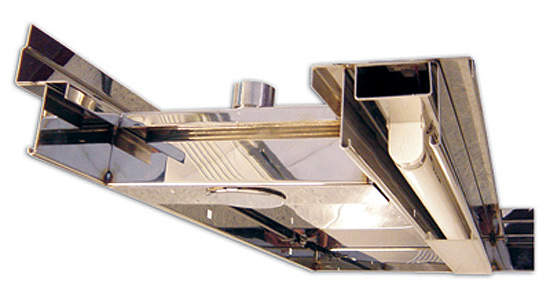 Clean-Trak® incorporates a modular ceiling system with flush integrated lighting and fire protection that allows up to 100% filter coverage and the highest level of flexibility in room operations/configurations.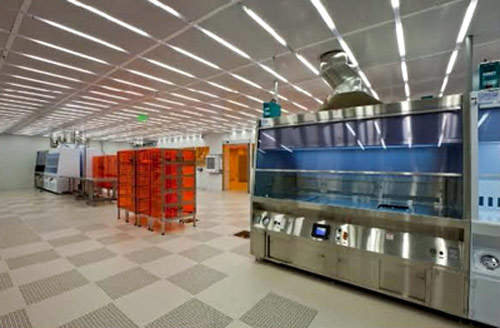 CLEANPAK's patented Clean-Trak® flush ceiling system is the standard method of delivering air for leading biopharma companies worldwide for critical Grade A and B applications.
Cleanroom ceiling lighting, lamps, ballasts, lenses, fire protection and pre-wired particle probes
Clean-Trak ceiling modules include lighting, lamps, ballasts, lenses, fire protection and pre-wired particle probes. Installation takes a fraction of the time, manpower and cost of constructing a conventional stick-built system.
Cleanroom applications, heating, ventilation and air conditioning
Whether you're looking for answers to your cleanroom applications or heating, ventilating and air conditioning needs, Cleanpak can provide a custom-engineered solution for your most challenging applications. Helping you meet green building considerations with reductions in shipping, natural resources, building requirements and power consumption is our goal.
Cleanpak International is part of the CES Group of companies who provide global engineering services and boast manufacturing capabilities in 12 different plants, with over 1.5 million square feet of manufacturing space worldwide.