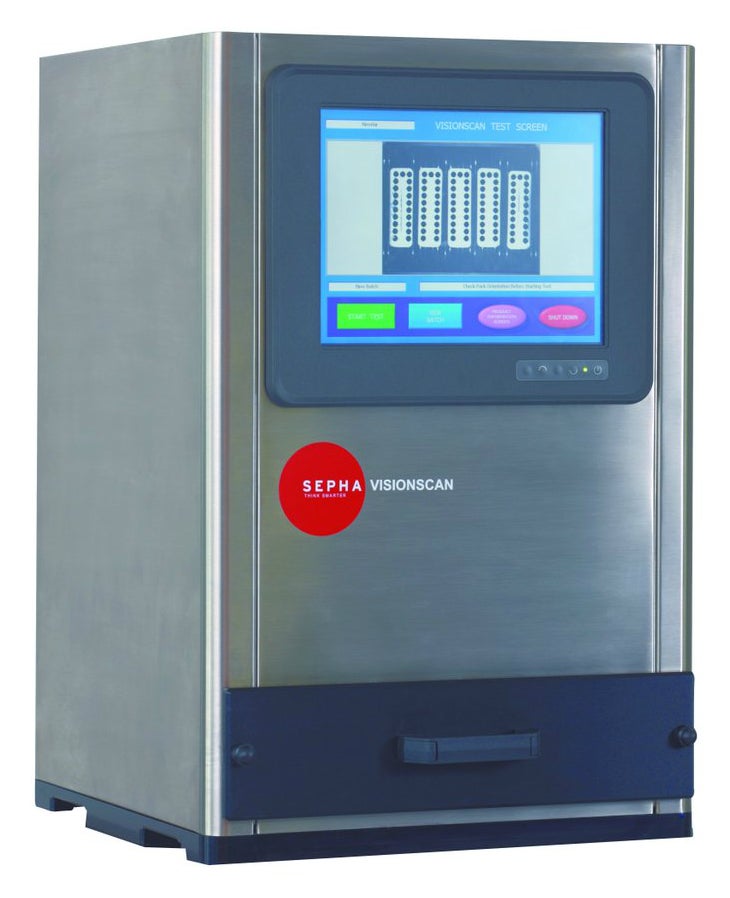 One of the world's leading biopharmaceutical companies, Pfizer, has selected Sepha's non-destructive inspection device for blister packs, called Visionscan, as its preferred global standard for blister packaging inspection.
Visionscan is the world's first, non-destructive, tool-less inspection device for blister packs and was developed by the Northern Ireland based packaging engineering firm Sepha Ltd.
Visionscan will help Pfizer reduce inspection costs and drive up accuracy levels as compared to traditional test methods.
The endorsement of Sepha's Visionscan by Pfizer comes after several months of trials which have demonstrated that Visionscan eliminates some of the known disadvantages of the blue dye test whilst increasing limit-of-detection capabilities in terms of pinhole size.
Scientists in Pfizer's Process Analytical Technologies (PAT) team validated Visionscan's test cycle which is capable of non-destructively assessing blister integrity for multiple sizes, shapes, cavity configurations and materials of construction. The test is relatively fast (about 1 minute per test cycle), empirical, and provides pass / fail results eliminating any need for human-visual analysis of samples and associated subjectivity.
The Pfizer team tested a statistically significant number of packs during the trial period, across multiple product materials and from production sites across the globe. They used Visionscan to apply cycles of both positive pressure and vacuum to blisters, while a high-resolution camera captured images of the blisters at the different pressure / vacuum stages.
They then used the bespoke image analysis algorithms to compare the images and identify subtle deformations in each blister pocket. The results highlight the objective differences in good and bad blister pockets during Pfizer's non-destructive inspection process with Visionscan. When matched for use with blister products exhibiting relatively high volume and / or high manufacturing costs per unit the return on investment on Visionscan can be significant.
Pfizer also found Visionscan relatively simple to install as well as operate, with low complexity of system hardware. With cost reduction and economic pressures continuing to play a key role in the pharma industry, the team concluded that technology with a purpose (such as Visionscan) can help improve quality, reduce rejected product, lower manufacturing costs and can help create a competitive advantage.
Commenting on this significant endorsement of Visionscan by one of the world's premier, innovative biopharmaceutical companies, Paul Kelly, head of sales and marketing Sepha Ltd, said: "Pfizer's independent validation of Visionscan as their preferred inspection method of blister packs justifies the investment Sepha has made in developing and bringing to market this innovative blister inspection technology.
"It also reflects the change we expect to continue to see in the global blister inspection market as it moves away from out-dated, destructive inspection methods such as blue dye. Pfizer, along with a number of other global pharmaceutical multinationals are already making that move. We believe Visionscan will become the best practice global non-destructive test method for blister packs over the coming years."
Visionscan is distributed globally by Sepha through a number of international agents. In 2013, Sepha was purchased by US company, TASI, which is a world-class manufacturer of leak test and measurement equipment. In recent years, Sepha has been recognised for its international marketing and exporting achievements with a number of awards including 'NI Exporter of the Year'.