Particle Measuring Systems (PMS) works with pharmaceutical manufacturers to provide complete contamination control for your clean manufacturing areas.
We begin by consulting with our Expert Advisory Services team to perform a risk assessment on your area. We then provide our world-class non viable and viable particle counters, installation, validation and finally, complete data management and reporting; all from one supplier. The PMS team provides you with the expertise to help you meet regulatory requirements including ISO 14644-1:2015, EU GMP Annex 1 and we have complete 21 CFR Part 11 solutions.
As a leader in contamination control and a complete solutions provider, we offer fully integrated and robust monitoring solutions including:
Particle Counters and Microbial / Viable Samplers, remote and portable
Environmental and Facility Monitoring Systems
Data collection and Data Management(DM)
Additionally, our independent Advisory Services team provides an array of services, including: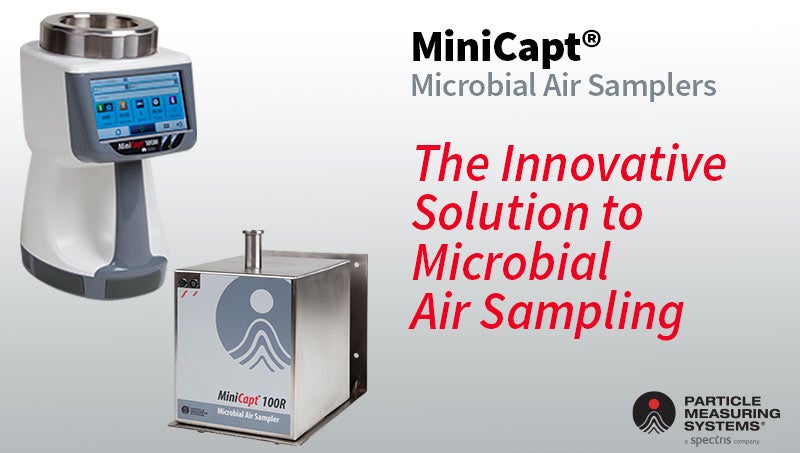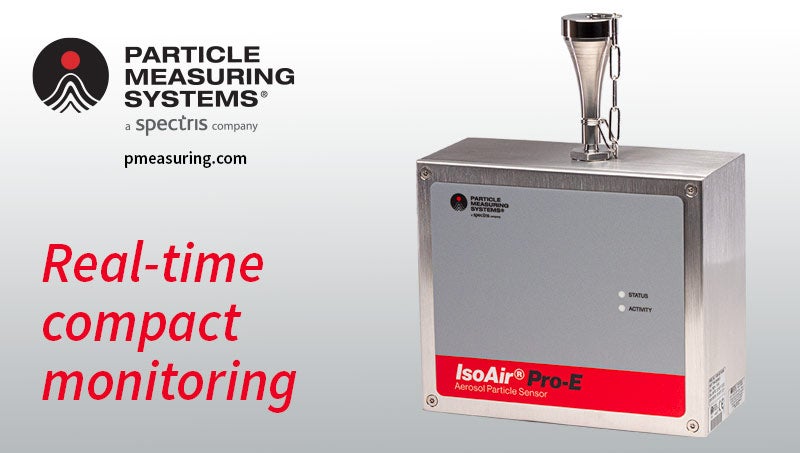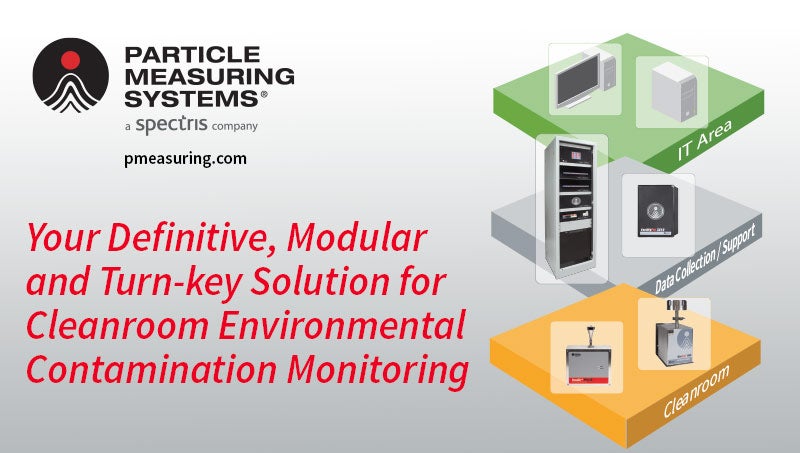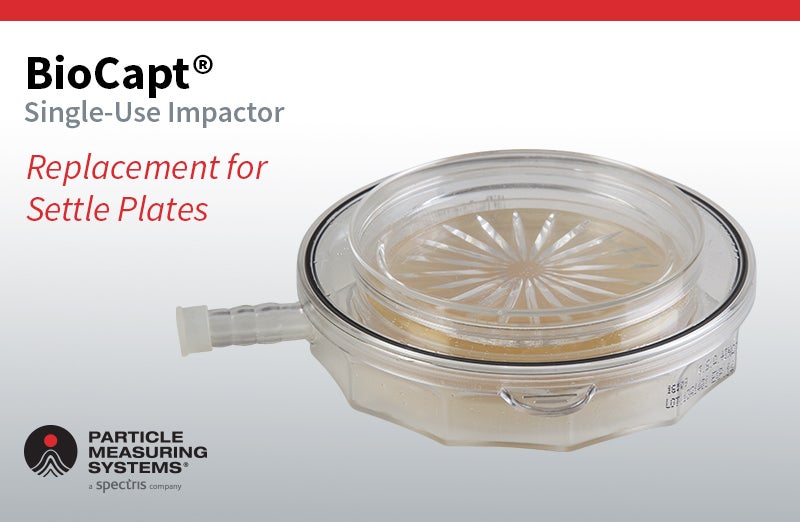 The BioCapt® Single-Use Microbial Impactor helps minimise false positives for microbial activity in pharmaceutical cleanrooms.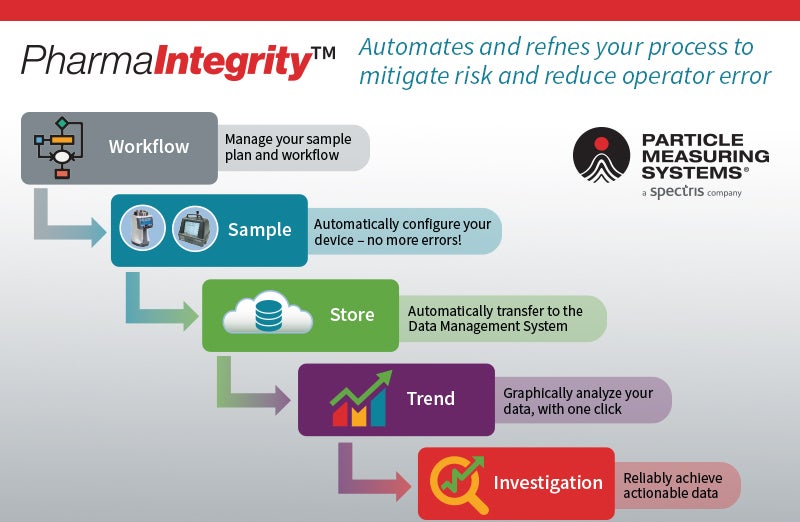 This complete contamination monitoring solution for pharmaceutical manufacturers includes data management and insights.
Risk Assessments
Sample point location advice
Thermal Validations
Crisis Handling – 483 management and response
Training and education
PMS has broad and global experience with cleanroom environmental monitoring systems consisting of a few to hundreds of measurement points. We're well versed in integrating data together from sources like differential pressure, temperature, relative humidity, airflow velocity and countless other process control devices. Our experienced team of experts provides trusted thought-leadership and training, including webinars, papers, and training (onsite or fully-remote options).
Facility Monitoring Systems (FMS)
An FMS with industrial control systems assures process automation and data integration with simplicity of use. Our FMS solutions help you maintain and better understand the data from your clean room environmental monitors. Particle Measuring Systems' family of FMS Processors provide a central hub for a facility monitoring system. The Processor communicates with cleanroom sensors, including particle and microbial monitors, while buffering data and checking tolerances for alarm activation. As a key component of industrial automation architecture, this embedded system offers high reliability as it controls samples and communicates with central software. A complete FMS system includes particle counters, microbial monitors, and various facility EM sensors. Particle Measuring Systems provides you with the equipment, software, installation and industry experts to detect, analyze, and control cleanroom contamination.
Contamination Monitoring Systems for Pharmaceutical Manufacturers
PMS's equipment is specifically designed and manufactured for pharmaceutical aseptic and cleanroom environmental monitoring. The units have a robust system architecture that ensures critical data is always available when needed for batch release and reporting. This is achieved using Facility Monitoring Systems with fixed and portable particle and microbial counters for air, liquid and gas applications. Including worldwide-compliant, industry-leading data and process management software.
PMS has modular and standalone solutions for cleanroom environmental contamination monitoring for ISO Grades: 5 (Grade A), ISO 5-6 (Grade B), and ISO 7-8 (Grade C-D) cleanrooms. Additionally, we have broad experience in monitoring applications such as loading, filling, capping, lyophilization, sealing, product transfer, operator functions, material transfer, gowning, compounding and packaging applications.
Viable Monitoring Solutions for Pharma & Biopharma Manufacturing
Data from an Environmental Monitoring (EM) program gives you a picture of how well your aseptic and clean areas are maintained. The viable environmental monitoring data is as critical to EM control as the non-viable data.
To achieve compliance with regulatory guidance, a microbial / viable monitoring program includes the following components:
Active air monitoring (room or enclosure environment)
Passive air monitoring (settle plates)
Surface monitoring (contact plates and swabs)
Personnel monitoring (gloves and garments)
Compressed gases
Materials and equipment that could compromise product microbiological quality
Understanding the cleaning and sanitization process
Industry standards are addressing a lack of microbial monitoring and improving guidelines to ensure better environmental monitoring. Particle Measuring Systems provides solutions developed by industry experts to ensure you are positioned for increased production with fewer excursions and positive audit results.
Helping our customers meet regulatory requirements
Particle Measuring Systems (PMS) has been the global leader in cleanroom contamination monitoring for over 45 years.  We are the only provider giving you complete monitoring instruments and services to meet pharmaceutical industry requirements. Our microbial monitoring instruments help you effectively meet regulations including ISO 14644, ISO 14698 and worldwide (c)GMP's such as EU GMP Annex 1.  We provide a complete line of remote and portable solutions, including single-use devices, to help you monitor air and surfaces in Grade A/ ISO 5, B/ISO 5-6, and C-D/ISO 7-8 environments, all to worldwide regulatory requirements.
Advisory Services
Particle Measuring Systems' team of experts is ready and available to support you at every step whether it be non-compliance issues, setting up a new process, GAP Analysis, or training employees. Our Expert Advisory Services offer experienced insight on many topics surrounding:
Cleanroom Contamination Control

Design & risk analysis
Cleaning and disinfection best practices
Process risk assessment
Aseptic process simulation
Audit management

Providing equipment and services for monitoring your clean areas from one source

Remote & portable viable monitoring equipment
Remote & portable non-viable monitoring equipment
Compliant data management software
FMS designed specifically for Pharmaceutical industry needs

Contamination control training

Quality Risk Management
Aseptic Process Simulation
Compliance