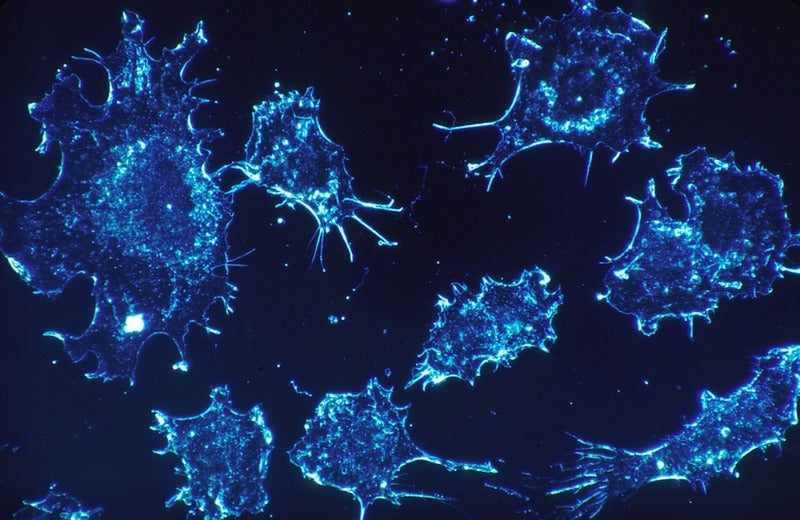 Pfizer secured US Food and Drug Administration (FDA) approval for Zirabev (bevacizumab-bvzr), a biosimilar to Roche's Avastin (bevacizumab).
The monoclonal antibody (mAb) biosimilar is indicated for the treatment of five different types of cancer, including metastatic colorectal cancer and unresectable, locally advanced, recurrent or metastatic non-squamous non-small cell lung cancer (NSCLC).
It can also be used to treat patients with recurrent glioblastoma, metastatic renal cell carcinoma (RCC) and persistent, recurrent or metastatic cervical cancer.
---
The University of Dundee's drug discovery unit (DDU) formed an alliance with Korea-based Bukwang Pharmaceutical for the development of a drug to treat Parkinson's disease.
Parkinson's is a neurological disease that affects approximately 6.1 million individuals globally, including 120,000 people in the UK.
Accumulation and misfolding of a small protein in the brain known as α–synuclein plays a key role in the development of the disorder. This phenomenon could lead to nerve cell death.
Findings from a University of Oxford research demonstrated that the USP8 enzyme blocks the natural breakdown of α–synuclein.
---
A study by the University of Surrey and Royal Surrey County Hospital in the UK demonstrated that a strain of the common cold virus could help the immune system to kill non-muscle invasive bladder cancer (NMIBC).
Tumours in the bladder often require intervention to trigger an immune response, as they use various mechanisms to avoid detection by immune cells. The researchers suspected that the common cold virus was able to support the immune system by inflaming the tumour.
In one study participant, all signs of the cancer were found to have disappeared.
---
US-based Lyndra Therapeutics signed an agreement with Gilead Sciences to develop and commercialise ultra-long acting oral therapies to treat human immunodeficiency virus (HIV).
Gilead will have exclusive rights to leverage Lyndra's proprietary long-acting drug development platform for HIV therapies.
Lyndra was founded in 2015 with the aim of improving medication adherence by focusing on developing longer acting oral drugs, rather than trying to change patients' habits. The drugs they create are oral and provide sustained, steady release of medicines over a week or longer while temporarily residing in the stomach. They are excreted safely the gastrointestinal tract, alongside undigested food.
---
Amgen and Novartis announced the discontinuation of their clinical development programme for CNP520 (umibecestat), a BACE1 inhibitor for Alzheimer's disease, which the Arizona-based Banner Alzheimer's Institute was also supporting.
The partners decided to discontinue two Phase II and III trials in their Alzheimer's Prevention Initiative Generation Programme following a review of unblinded clinical data, which showed the CNP150 caused a decline in cognitive function.
The next step will be to contact all study participants in order to discontinue their treatment. Then the researchers could seek to further analyse the data and get a better understanding of precisely what led to the drug's failure in Alzheimer's.
---
Lawyers for the US state of Oklahoma argued that Johnson & Johnson (J&J) should be held responsible for driving opioid epidemic in the country and pay around $17bn over 30 years to address the crisis.
The lawyers, including Attorney General Mike Hunter, said that the pharmaceutical giant carried out a marketing campaign that created confusions about the risks of its addictive pain medication, reported Reuters.
According to state attorney Brad Beckworth, J&J downplayed the addiction risks that led to over-prescription of the drugs, fuelling the epidemic.
---
Northwestern University researchers developed a drug delivery system that can disguise chemotherapy drugs as fat, meaning that tumours readily consume them, the drugs are then activated to suppress tumour growth and eventually the tumour dies.
The system is an engineered long-chain fatty acid with two binding sites on each end for the drugs, which is hidden inside human serum albumin (HSA). The body's cellular receptors recognise the fats and proteins supplied by the HSA, and allow the fatty acid to enter cells.
Northwester University Jacob and Rosalind Cohn professor of chemistry Nathan Gianneschi, who led the research, commented: "It's like a Trojan horse. It looks like a nice little fatty acid, so the tumor's receptors see it and invite it in. Then the drug starts getting metabolized and kills the tumor cells.
---
The US Food and Drug Administration (FDA) approved nine generic versions of Pfizer's nerve pain drug Lyrica (pregabalin), which were the first generics approved for the medication.
Lyrica is a prescription medicine cleared by the FDA for the treatment of various conditions. These include fibromyalgia, spinal cord injury nerve pain, pain after shingles and diabetic nerve pain.
It is also prescribed for partial-onset seizures in epilepsy patients who use one or more drugs for seizures.
According to IQVIA, pregabalin capsules generated around $5.4bn in annual sales in the US for the 12 month period ending 31 May 2019.
---
Gemphire Therapeutics agreed to merge with biotechnology company NeuroBo Pharmaceuticals in an all-stock transaction.
After the merger, NeuroBo investors will own 95.94% of the new company, while Gemphire shareholders will own around 4.06%.
The merged firm will advance NeuroBo's clinical-stage drug candidates for neurodegenerative disorders.
Currently, NeuroBo is developing NB-01 for the first-line treatment of diabetic neuropathic pain (DNP) and NB-02 to treat conditions linked to the amyloid-beta and tau protein pathological dysfunction in the brain, such as Alzheimer's disease.
---
AstraZeneca obtained the National Institute for Health and Care Excellence (NICE) approval for use of its olaparib drug as a first-line maintenance therapy to treat gynaecological cancers patients on the National Health Service (NHS) in England, UK.
NICE's decision comes after AstraZeneca reached a commercial agreement with NHS England.
The drug is now available via Cancer Drugs Fund for adults suffering from BRCA mutation-positive, advanced high-grade epithelial ovarian, fallopian tube or primary peritoneal cancer. In particular, this will include patients that showed response to one round of chemotherapy.