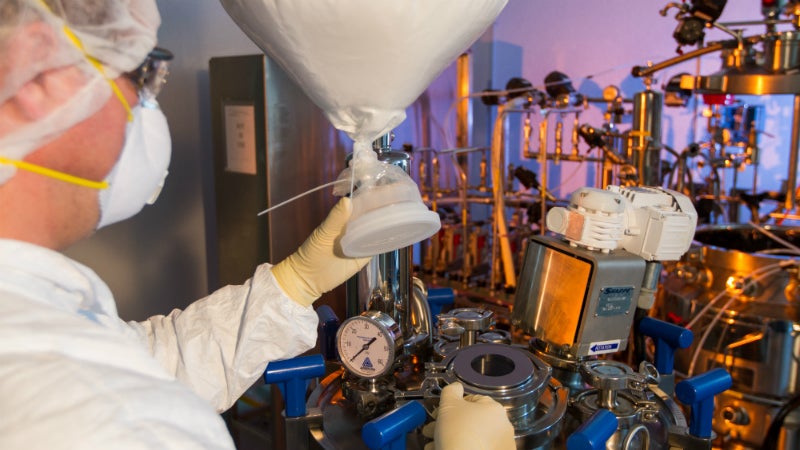 ILC Dover offers flexible powder containment technologies, eliminating problems associated with the use of traditional metal and glass systems for the pharmaceutical industry.
The company applies flexible solutions to pharmaceutical potent powder containment during processing of bulk compounds and oral solid dosage manufacturing throughout the industry from North America to Europe and Asia.
Pharmaceutical powder containment
As demonstrated by the Risk-Based Manufacture of Pharmaceutical Products (Risk-MaPP) principles, both current good manufacturing practices (cGMP) and industrial hygiene (IH) needs can be met by containing the process at the source. By employing flexible containment and using the logic diagrams from the Risk-MaPP process, cleaning is minimised and the operator is protected with this engineering control. As such, processes in multi-product facilities can be safely performed without the risk of cross contamination.
Single-use powder handling systems
The DoverPac® containment system is a highly reliable storage solution for disposable products and single-use powders. Suitable for charging and offloading procedures, the system comprises a tough film liner supported by a durable fabric outer restraint.
The liners are formulated to meet client requirements, delivering high elongation performance for ruggedness and strength. This is complemented by a unique blend of anti-static additives, allowing for the safe and secure containment of pharmaceutical products.
Containment services for bulk compound processing
DoverPac® has gained wide acceptance by the pharmaceutical industry for use during processing of bulk compounds. DoverPac® prevents worker exposure to highly potent compounds and can eliminate the need for protective garments and respirators.
The new EZ Biopac is a contaminant and transfer system designed for easy adjustment to different bulk weights. Achieving a precice and quick fill time, the system keeps the discharge outlet seperate from antistatic polymer material resulting in 2g or less residule in a 5kg bag. In addition, the EZ Biopac has a protective bag to help ensure the support stand and exterior are not contaminated.
Continuous contained powder processing
ILC Dover's flexible containment technologies allow continuous, contained processing utilizing ArmorFlex™ films developed specifically for the pharmaceutical industry. DoverPac® fabrication techniques are based on over 50 years of experience in life-critical product manufacturing.
Containment for potent compounds
Unlike standard flexible intermediate bulk containers that are not designed specifically for potent compound manufacturing, DoverPac® is designed to assist operators in performing operations without ever opening up the system. And, our ISO: 9001 registration assures product quality and operator safety during pharmaceutical potent powder containment operations.
Flexible containment systems
Flexible containment is a validated process that uses high-quality engineered storage products with a five-year shelf-life. They pass Chilworth incendivity tests, contain antistats to prevent powder sticking to the side of the bag, and have a drug master file (DMF) filed with the FDA.
FDA and EU compliant
ILC's innovative ArmorFlex containment material is compliant with US Food and Drug Administration (FDA) and EU requirements:
Complies with FDA 21 CFR
Meets 2002 / 72 / EC requirements
Passes USP 661 physicochemical tests for plastics
Passes USP 88 class VI (7 day implant)
Flexible containment systems
Flexible containment is a validated process that utilises quality engineered products designed to meet critical requirements for:
Five year shelf-life
Permanent antistant replaces migrating additives
Passes chilworth incendivity tests
Drug master file (DMF) filed with FDA
Upgrade existing facilities for potent compound containment
DoverPac® is one of the fastest growing containment solutions in the industry. Our worldwide clients have appreciated the ability to upgrade existing facilities for potent compound containment during processing. This ability to upgrade has allowed our clients to avoid the capital expense of new equipment and / or facility upgrades. And, the fast turn around to facility upgrading for pharmaceutical containment has meant significant decreases in facility start-up times.
Using single-use technologies to achieve continuous manufacturing has long been a goal of biomanufacturers.
The CrimpLoc® System provides high containment and secure closure when used with our ArmorFlex® films. 
The EZ BioPac speeds up media and buffer production with modern single-use powder handling.
While design characteristics may be identical to rigid stainless-steel isolators, flexible film aseptic isolators offer several advantages for careful consideration.
A pharmaceutical production line must be safely and efficiently managed above all else. If a product becomes contaminated or production is delayed, it can have severe ramifications for the manufacturer responsible.
In May 2019, ILC Dover opened a manufacturing facility in Ireland to produce the company's pharmaceutical and biopharmaceutical product lines. The plant is designed to strengthen the company's single-use powder handling solutions business.
ILC Dover, a global leader in the development of single-use flexible solutions for pharmaceutical manufacturing, is pleased to announce the acquisition of UK-based Solo Containment (Solo), a specialist manufacturer of flexible film isolators.
ILC Dover LP
One Moonwalker Road
Frederica
DE 19946-2080
United States of America