Metrohm is the global market leader in the fields of titration and voltammetry, and one of the leading innovators in ion chromatography, online analysis and laboratory automation.
Metrohm is the only company providing all relevant ion analysis technologies under one roof: potentiometric and Karl Fischer titration, voltammetry and ion chromatography, as well as pH, ion, conductivity and oxidation stability measurements. Additionally, we offer instrument software, method-specific software packages, and peripheral units, as well as a full range of systems for dosing and liquid handling.
Customised analysis for the pharmaceutical industry
With regard to the quality and safety of drugs, authorities worldwide set high standards for the pharmaceutical industry. These are documented in pharmacopoeias in the form of official collections of recognised pharmaceutical rules. As legal tools of consumer protection, they ensure that drugs are used safely.
To ensure these high quality and safety standards, reliable instruments and methods are needed.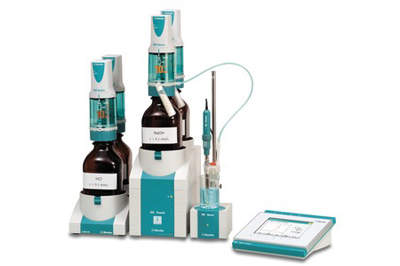 The Titrando - the intelligent titrator without reliability gaps.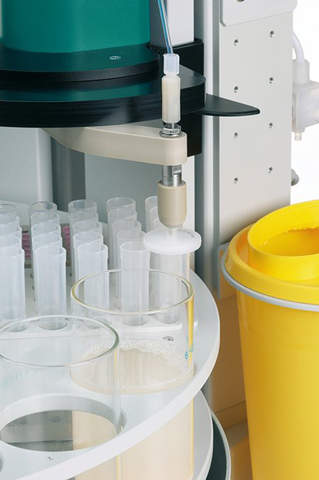 The Robotic Filtration Soliprep filters remaining solids out of the homogenised sample - what remains is a clear filtrate that can either be injected directly into the analyser or diluted further.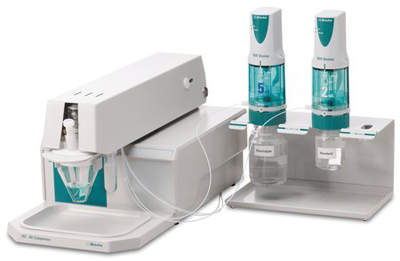 The 797 VA Computrace is a modern measuring stand that allows voltammetric and polarographic determinations to be performed.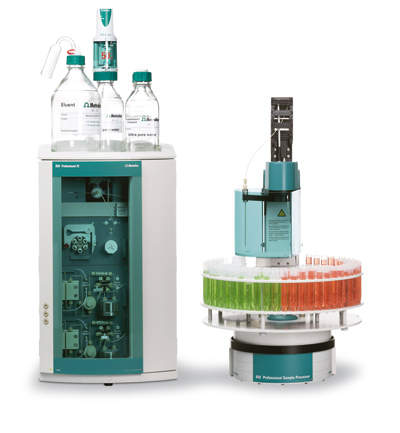 850 Professional IC with 858 Professional Sample Processor: an intelligent ion chromatography system for parallel determination of anions and cations in pharmaceutical products.
Instruments for titration, ion chromatography and pH measurement
As a leading manufacturer of instruments for titration, ion chromatography and pH measurement, Metrohm is aware of these challenges. For this reason, Metrohm offers you not only the latest instruments, but complete solutions for very specific analytical issues.
Your Metrohm contacts are competent specialists, who will develop customised applications and provide you with professional support in all matters of regulatory compliance.
Discover what solutions Metrohm is able to offer the pharmaceutical sector, and you in particular, to ensure the quality and safety of your products.
Intelligent titrator without reliability gaps
Thanks to its modular concept, the Titrando system can easily be adapted to any application. It meets the requirements of FDA regulation 21 CFR Part 11, irrespective of its use as stand-alone titrator in combination with 840 Touch Control, PC Control or tiamo™.
The advantages at a glance:
Brainy dosing elements with certification
The iTrodes – intelligent electrodes
STAT titration with tandem dosing
Flexibility – from the individual instrument to the fully automated system
Sample preparation at the touch of a button
Automatic sample preparation instruments
With instruments of the Robotic Soliprep family, neither deviant results nor time-consuming manual routines are an issue. The solid substance is simply weighed out and placed in the sample rack – all the rest is done fully automatically.
Depending on the model selected, different steps can be combined – including the direct connection to a chromatograph or the titration of the homogenised sample.
Ion chromatography systems
Ion chromatography is the method of choice to determine active ingredients, excipients and traces of impurities and metabolites in the form of organic and inorganic ions or polar substances in a number of pharmaceuticals, pharmaceutical solutions or body fluids. In particular, Metrohm ion chromatography systems handle demanding analytical challenges such as the determination of impurities in pharmaceuticals, active pharmaceutical ingredients and pharmaceutical solutions.
Metrohm has taken ion chromatography to an entirely new level. The 850 Professional IC is the first ion chromatography system made up of intelligent components.
Measuring stand for voltammetric and polarographic determinations
Voltammetry also enables organic compounds to be determined with a high degree of sensitivity. This makes it possible to analyse many active pharmaceutical ingredients according to USP<801>.
The 797 VA Computrace is a modern measuring stand that allows voltammetric and polarographic determinations to be performed.
Some application examples:
Fe(II) in iron sucrose injection solution according to USP-NF
Thimerosal in eye or nose drops, vaccines and cleaning solutions for contact lenses according to USP-NF
Heavy metal impurities in pharmaceutical products
Metrohm is exclusively represented in more than 80 countries, more than 40 of which have their own subsidiaries. This guarantees a tight network for sales and service.